Spaces Sheffield tenant Yorkshire Electric Scooters are on a mission to create a green transport revolution.
We spoke to founder Gordon Riley to find out more.
Promoting the East Sheffield Business Community
When did you start Yorkshire Electric Scooters?
Yorkshire Electric Scooters officially came to life in 2020, during Covid-19 lockdown.
The goal had been a long standing one since first encountering the eco-friendly and fun mode of transport many years ago. My redundancy enabled me to turn my time and finances into a dream, then a goal, then into reality. It's been a very busy time with many challenges, but enormously fulfilling.
What was the driver for starting Yorkshire Electric Scooters?
One of the most incredible sights I have ever seen was in Copenhagen. I happened to be walking through the centre of the busy city at rush hour and watched with amazement as thousands of individuals travelled effortlessly past me on their bicycles and scooters, of which many were electric assisted, helping them climb the hill on which I was stood.
Even greater than that, the cycles and scooters far outnumbered the cars, vans and lorries.
It really was a significant moment in my life. The non-polluting vehicles were in their own lane, physically segregated, travelling en-masse safely, within the law and following a standardised etiquette. It was a beautiful thing to witness.
This idea that everyone should be able to choose to travel with this mode of transport to work or for leisure, legally and safely in their own personal space is still very much a driver for me today.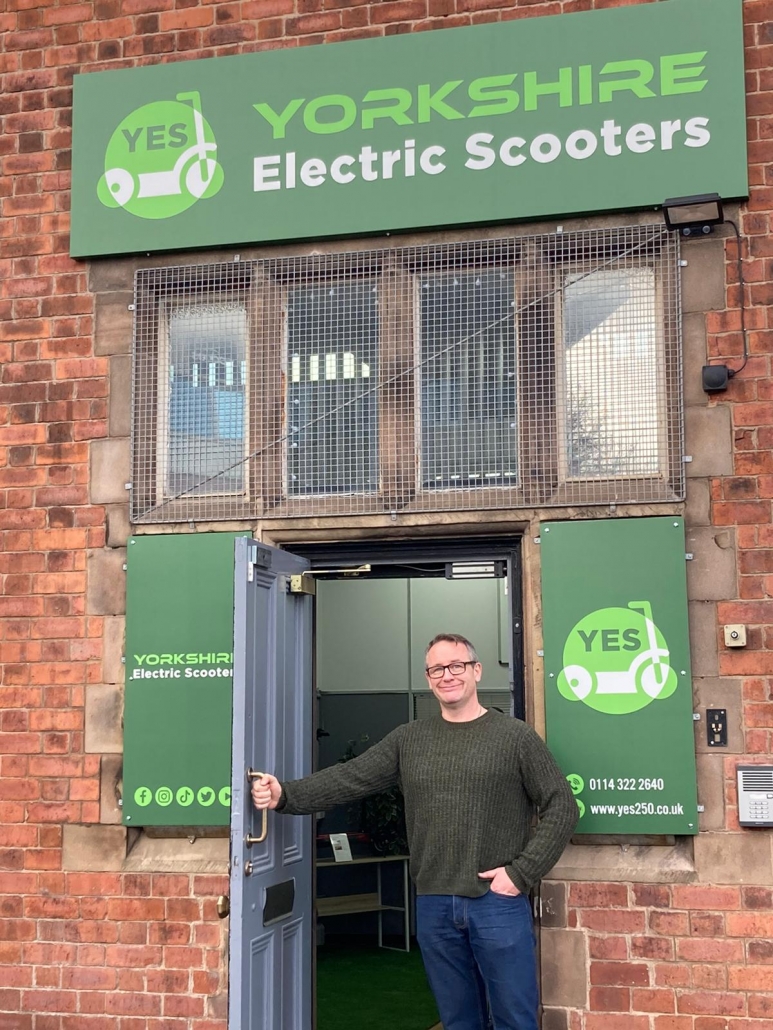 Your company sells electric scooters – why are these such a hot topic at the moment?
Following successful introduction of this fantastic mode of transport in major cities around the world, which are helping those cities to move closer to green energy targets, the UK government have allowed eScooter trials to run in major cities since the 4th July this year.
There is a lot of debate around them currently as people are wanting to use them but the legality of where and how you can ride them is very confusing!
The environmental benefits of getting people out of cars – even electric cars that require a large amount of electricity – and onto electric transport methods requiring little power are enormous and so many individuals and organisations are discussing the many benefits of electric scooters but, as with any change, there are concerned parties.
A few organisations have said they believe the introduction of electric scooters into the centre of cities and towns would be a risk to their members. Under certain circumstances I completely agree.
Concerns from, for instance, those who represent the blind and partially sighted in our population are completely warranted.
The primary reasons for apprehension is because scooters are very quiet and do not therefore give the same audible warning that many pedestrians subconsciously register when around fossil fuel engines. But bicycles and electric bikes present similar potential dangers yet are – rightly – welcome on the streets.
However, as electric scooters are relatively new, there is no "education" around them and so they can be perceived to be more dangerous and, if people are using them without fully understanding how to drive them safely on streets, as with cycling, then there could be safety concerns.
Yorkshire Electric Scooters plans to open the North of England's first riding academy in Sheffield to provide this education to those interested in riding scooters safely.
Here, participants of all ages will be able to learn in a controlled and safe environment not only the basics of riding, but also how to ride safely and considerately. With the opening of our new showroom in Sheffield we will be also able to ensure also that interested individuals are given advice on the suitability and features of the various models available to them.
So is it legal to ride an electric scooter on the road? How does that work?
Electric scooters are legal in the UK. However, there are lots of restrictions surrounding where they can be used.
It's currently illegal to use them on public roads, on pavements, in cycle lanes and in pedestrian-only areas unless you are renting one from an authorised council scheme.
The reason for this is that electric scooters are currently classed as 'powered transporters' by the government and fall under the same laws and regulations that apply to all motor vehicles.

This makes their use on pavements, in cycle lanes and in pedestrian-only areas illegal straightaway and use on public roads would only be legal if electric scooters could meet the same requirements as motor vehicles (e.g. in terms of insurance, tax, license, registration), which they can't.
However, electric assisted bicycles are legal to use, which many people find quite confusing. Another grey area which in my opinion is not adequately explained is why are the owners of electric scooters not allowed to insure the vehicle, whereas the companies who rent out scooters can get insurance to cover them.
The government had been planning to run electric scooter trials in 2021, but the trials have been fast-tracked in light of the coronavirus outbreak and began on 4th July 2020 instead.
The 12-month trial period finishes in July 2021 and we're confident that the government will proceed in aligning themselves with the rest of Europe and bringing privately owned or leased electric scooters forward as a mainstream travel option.
Where did you first come across an electric scooter?
The first time I saw an electric scooter was in California with one of my sons. We rented scooters and travelled past Venice Beach and the end of Route 66 in Santa Monica. I was hooked there and then; we both were. The independence, fresh air and freedom. It's a great feeling.
Who are electric scooters mainly targeted at?
The majority of our users are aged between 18-45 however we have been pleasantly surprised by the amount of our customers who are over that age, and even more surprised by the number of registered disabled people who have asked our company to supply one to them to give them a freedom they might otherwise not have.
One reason they're popular with this category is that they are easier to store than traditional mobility scooters.
And they can certainly be more cost effective. Our range of 10 electric scooter models start from £250 all the way up to £1,000 for our premium twin motor G-Booster, so there is usually a scooter to suit each customer's needs and budget.
Initially we were targeting just men, however plenty of our enquiries and sales come from females who enjoy the freedom that it brings individually or are wanting to enjoy their partners' hobby too, side-by-side.
In much the same way as the popular cycling proficiency test I believe that there is a time and a place for younger members of the population to enjoy riding electric scooters in a controlled environment and learn how to do so safely.
Private parks or arenas would make an amazing place of all manner of newcomers to try these out before investing in one. However, the vast majority of our users will be commuters and students travelling back and forth.
One of the drivers for our locating at the Olympic Legacy Park in Sheffield is because the Don Valley area and, indeed, this whole part of the city is very flat!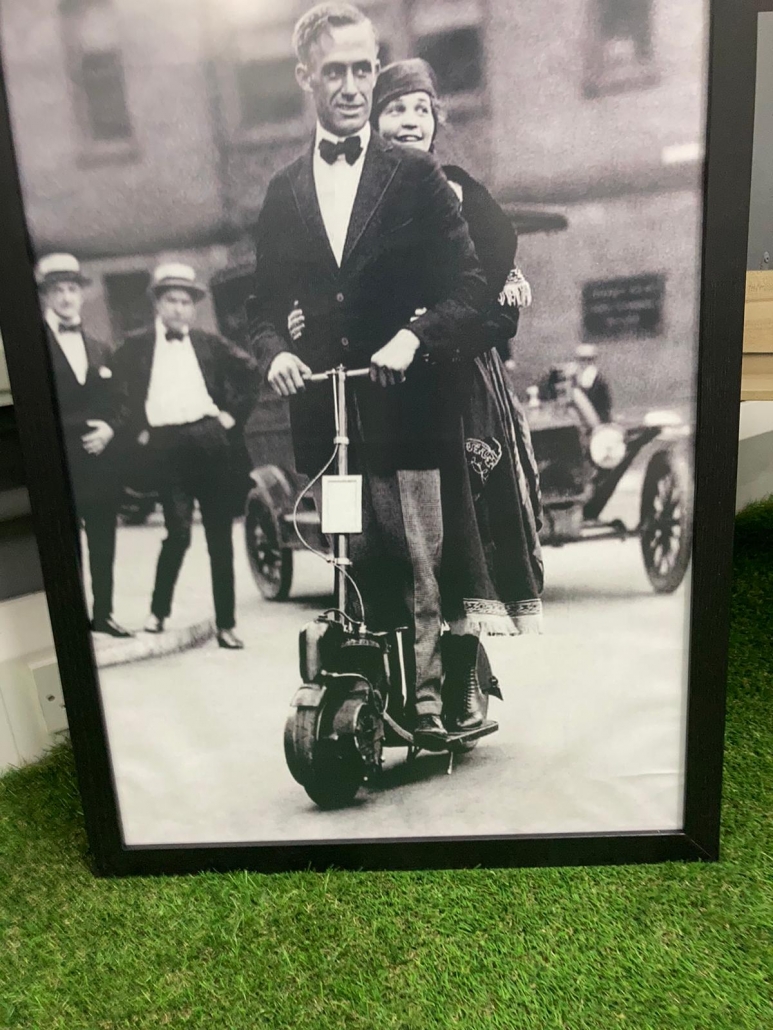 What makes Yorkshire Electric Scooters different to other Electric Scooter sellers?
Many people have asked me this question and the answer is simple, Yorkshire Electric Scooters have a vision for the transformation of Sheffield, Yorkshire and, eventually, the whole of the UK.
We are not in this business to just sell cheap scooters on Black Friday and then hike prices up to make a huge profit over Christmas like some will do this year: We are here to help people change the way they travel, and for Yorkshire Electric Scooters to guide, supply, repair, maintain, inspire and help educate a newly forming community for generations to come.
We will be updating our website regularly with the latest news, changes to the law, events in the area, special offers etc to become the go-to hub for electric scooter information.
Our range of 10 different electric scooters have all been tested by the team as we must know first-hand that the quality of each model we sell is appropriate for its intended use.
We also believe it is fundamentally important to provide value for money products to our customers so are consistently updating our knowledge to offer insight and guidance, both online and in our showroom.
How many different types / models of electric scooters do you sell, and what are the main differences that you can expect from different scooters?
As I mentioned previously we have a great range of scooters starting at just £250. It is important to consider initially how you would like to use the electric scooter before going out to buy one. There are many differences in most aspects of scooters which have benefits but could be pitfalls depending on the use.
There are many factors like motor power, brake types, battery size and range per charge, portability, lighting options and what accessories are available for different models. Also maximum rider size, tyre size & type as well as the suspension offering.
We are currently working on a 'Build your Own Scooter' app that will ask questions and allow suggestions to aid the tailoring of a scooter exactly how a customer wants it. Much the same way as you can design your own car or burger from the comfort of your own home.
There is a lot to consider to when looking to buy an eScooter to ensure the best one for your needs, so it's definitely worth popping into the showroom to discuss your needs and let us help you choose the perfect eScooter for you!
Please tell us more about yourself and your background.
I have my parents to thank for making me a Sheffield lad and wouldn't want to have been born anywhere else in the World. I am very proud to be Sheffield born and bred.
For the first 10 years after leaving school I worked in retail with a variety of roles but always noticed my friends were off at the weekends when I had to work and always had more money than me, so at the age of 29 I decided to go to college then to university to study computing and support my children better as they grew.
I then spent the next 15 years in IT from installing computers in schools, progressing to manager with Hewlett Packard. Then a serious brain injury and heart attack before my 43rd birthday changed my outlook on life and also my work options. So, with my redundancy payoff I set a goal of bringing something good to the people of Sheffield and giving something back to my family who have looked after me for almost 8  years of recuperation after my accident.
Travelling to various parts of Europe and seeing their changing road infrastructure and new methods of transport really inspired me. Walking around the cities of Copenhagen and Stockholm during rush hour was truly amazing, seeing all the electric scooters and bicycles which far outnumbered the cars and vans using the same roads.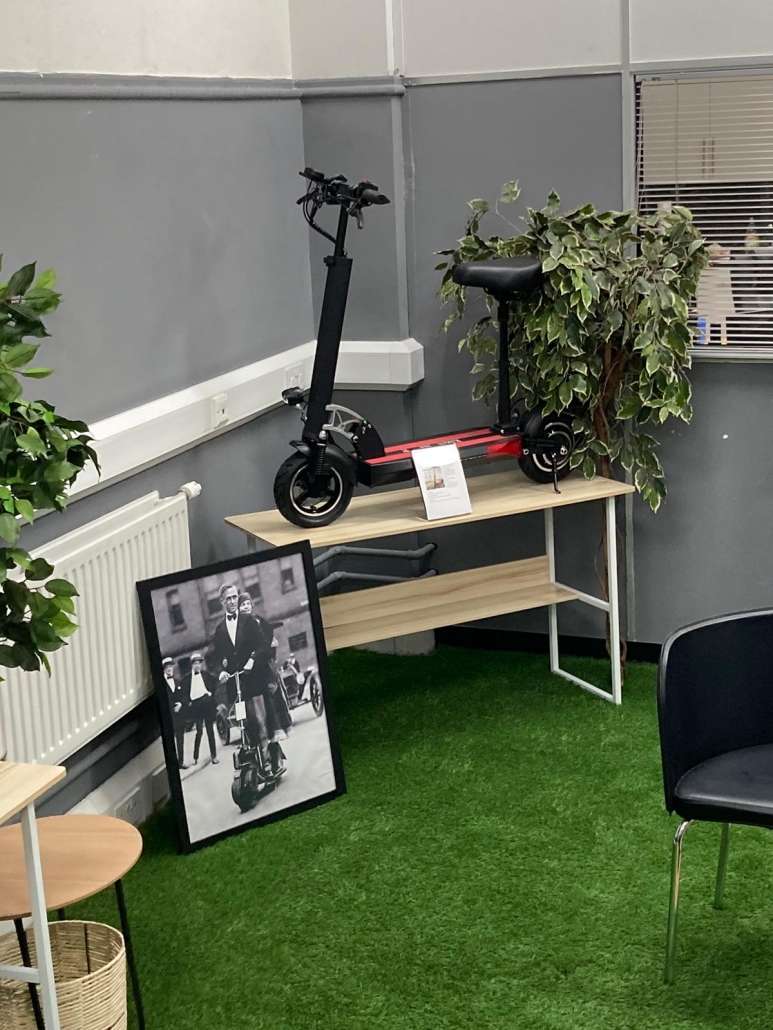 Where can people buy your scooters?
Our full range of scooters are on display and can be bought from our newly opened showroom next door to the Library Café on Leeds Road at the Sheffield Olympic Legacy Park.
People interested in joining the electric scooter community can also buy them from our website with prices from just £250 at www.YES250.co.uk.
Whilst Covid-19 restrictions in place, it is recommended to make an appointment with us so we can ensure the showroom area is not too crowded and there should be no wait.
How do we contact you for more information on electric scooters generally, and for specific questions about your scooters?
People should feel free to contact us via email at info@yes250.co.uk or by calling us on 07376 257448.
Alternatively, as mentioned, our showroom and repair clinic are open. Currently, with Covid 19 restrictions, it is recommended to make an appointment so get in touch first and we'll sort the best time.
http://www.spacessheffield.co.uk/wp-content/uploads/2020/10/YES-Feature-Image.jpg
600
800
Spaces_Sheffield
http://www.spacessheffield.co.uk/wp-content/uploads/2020/08/spaces-sheffield-logo-02-1.png
Spaces_Sheffield
2020-10-20 22:53:24
2020-12-30 15:54:06
Welcoming Yorkshire Electric Scooters